FACEBOOK: It is a great place to work!
It's not just about cool, open-plan offices, chill-out areas, pool tables and well-stocked pantries. Building the right workplace culture is about finding the right people.
HRM Asia spoke to social media giant Facebook about its plans to grow even further in Asia-Pacific. Vice President for Southeast Asia and Emerging Markets Benjamin Joe, and Lizzie Runham, HR Director for Asia-Pacific, say it is Facebook's collaborative workplace culture that will drive that expansion. This is part one of a three-part interview with Joe and Runham.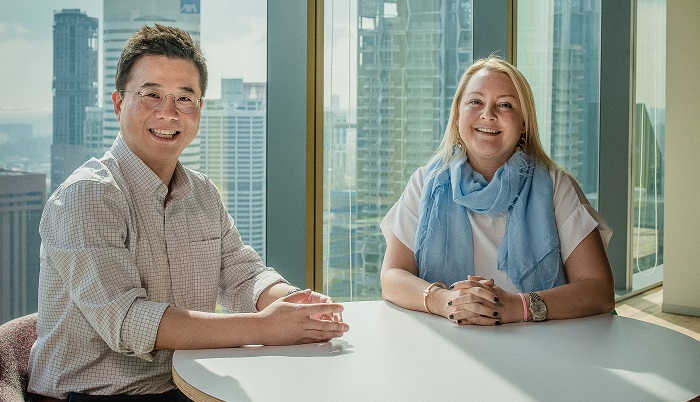 Facebook has ambitious plans to grow its presence in Asia-Pacific. The social media giant now has more than 2.4 billion monthly active users across its four core products: Facebook, WhatsApp, Instagram, and Messenger. Out of more than 2 billion people who are on its platforms each month, more than 1 billion are here in Asia-Pacific.
Last year, Facebook moved into swanky new office space in the heart of Singapore's central business district, across four floors at the new Marina One building. This serves as Facebook's regional headquarters. The headcount is currently just over 1,000 people, with the capacity to accommodate up to 3,000 workstations as it ramps up operations in Asia. Facebook has already invested US$1 billion in the region, including through data centres and hired talent.
Benjamin Joe is the Vice President of Facebook for Southeast Asia and Emerging Markets. He started off working for Facebook in its Paolo Alto headquarters in California, before relocating to Korea and then Singapore. He has clocked up more than eight years at the company.
Joe normally gets into work at about 7.15 am and enjoys breakfast in the Facebook office. The social media platform has a global reputation, along with Google, for having cool office spaces, funky breakout areas, and generous supplies of food and drinks. The Singapore office fits perfectly in line with this image.
For Joe's interview with HRM Asia, we sat in one of the many relaxed, lounge areas complete with comfy chairs and bookcases brimming with novels. In fact, Joe donated many of the books on the shelves.
Wellbeing
The open-plan office space, chill-out areas, pool tables and multiple, well-stocked pantries aren't just there to look good in photo shoots. They also serve another, more important purpose. "Workspaces, micro-kitchens and the cafeteria are designed as open areas to encourage employees to connect and collaborate, while they refuel and reenergise throughout the day,'' says Joe.
Joe works closely with Lizzie Runham, HR Director for Asia-Pacific at Facebook. Their missions are closely aligned – to create a great workplace for their staff and build a strong culture. "We have worked hard to create an open work environment where everyone is treated equally, and people wake up and feel happy about coming to work," she says. "We know it is an important part of attracting and retaining talent. We even equip each space with technology to allow us to connect across markets and feel like we're in the same room."
Diversity is also high up on the people agenda says Joe. "The goal is to have a gender, age and race-agnostic environment where everyone has a voice and equal opportunity,'' he explains. But this doesn't happen by chance. Such an ambition needs a commitment of time and effort.
Back in 2017, Facebook rolled out comprehensive Managing Bias training. And to date, more than 90% of its senior leadership team have taken the course.
Some of the other ways Facebook is working to promote and increase diversity include giving four months of parental leave for both new mothers and fathers. The company is also proud of its Women's Leadership Day, which is open to every woman at Facebook, and is focused on strengthening the community of women within the company.
Joe explains the depths Facebook goes to promote diversity: "We make a very strong effort to find female talent. So we won't begin the hiring process until we have enough women apply for the role. We are happy to wait, and often do,'' he says.