Unlocking future growth through talent transformation  
Employers need to adapt with the times to engage and retain employees, including deploying AI tools for reskilling of employees for the future.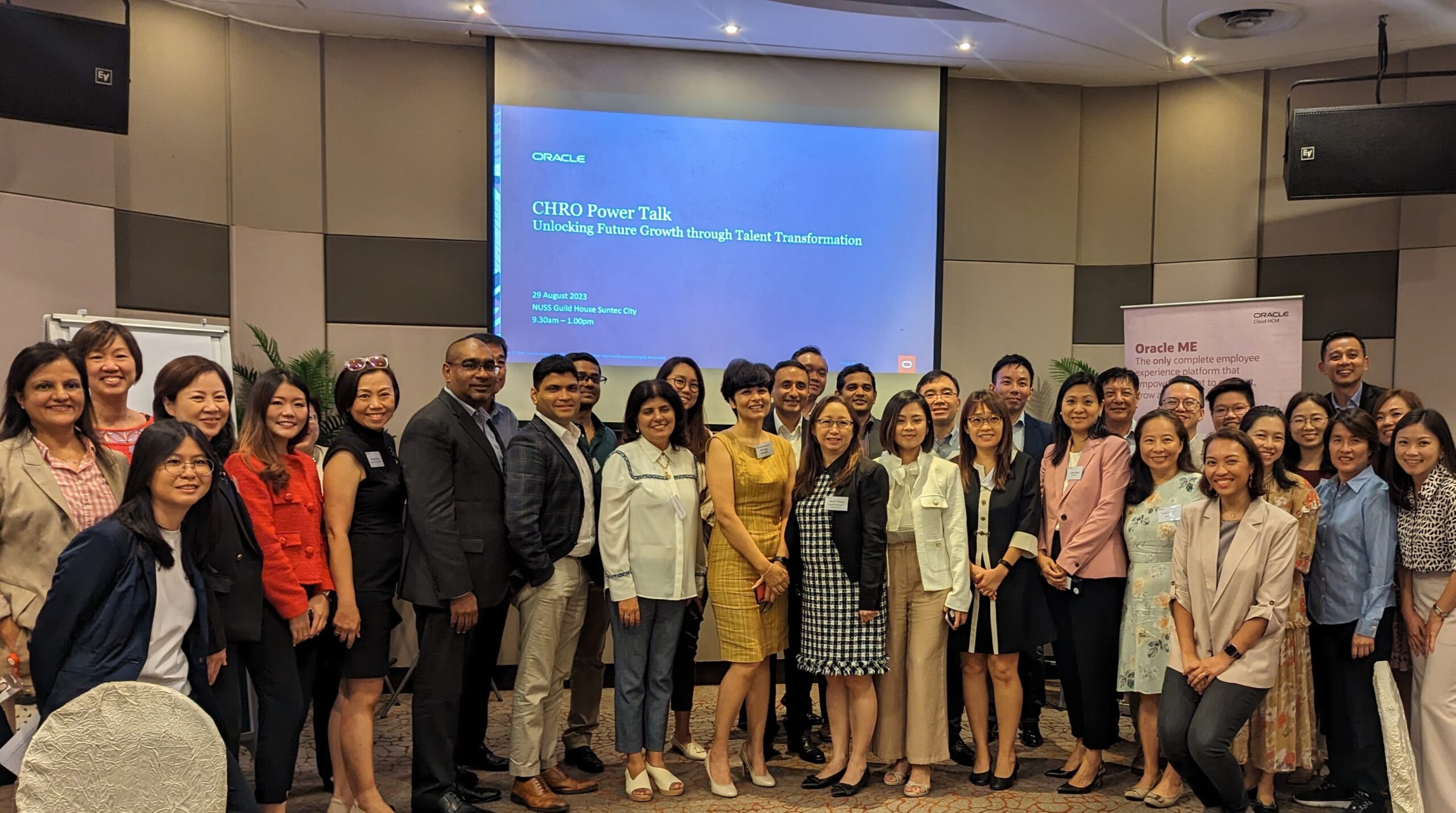 Digital transformation within organisations is now almost essential to ensure a strong development of talent, and leaders need to work hand in hand with HR teams within organisations to nurture talent and innovate the landscape of work, especially in an increasingly disruptive world.
This was one of the key takeaways from the CHRO Power Talk: Unlocking Future Growth Through Talent Transformation Roundtable that saw more than 30 delegates from leading organisations discuss what it takes for successful organisations to build a future-ready workplace with a focus on their people.
Organised by Oracle and Accenture in collaboration with HRM Asia, the roundtable talk summarised how employers can work towards shifting to a skills-based approach for talent management, and how to leverage technology to rethink the employee experience, including adopting smart technology and AI to enable workforce insights, planning and empowerment of employees within organisations.  

Moderated by Harkanwal Virdi, Senior HCM Director, Oracle Asia-Pacific and Japan, the roundtable saw a panel of distinguished guests share their expertise and opinions on the topics of employee engagement, the development of artificial intelligence (AI) tools usage that employees can use to save time and learn, how employers can have the right conversation as part of the performance management process and the pressure for HR teams to be innovative. The panel included Ng Kian Khar, VP, People Technologies and Transformation, Singtel; Rachna Sampayo, Group VP of HR, Oracle Asia-Pacific and Japan; Shailesh Shetye, Managing Director, HR Transformation and Digital HR Lead, APAC, Middle East and Africa, Accenture; and Nesan Govender, Managing Director, Accenture.  

Sampayo explained that one of the reasons for the need to change stems from increasing shifts in employee expectations, much like how consumers now expect different qualities in their consumption of good and services. "Today, employees place a high premium on flexibility, creativity and purpose when they do interviews," she explained. "'How can you offer flexibility to me?' 'Can I work from anywhere?' 'How do I fit into this picture?' and 'What are you going to do for my development?' Those are the kind of questions employees expect organisations to have the answers for." Managers, thus, face enormous pressure to build a good working environment while organisations have to focus on meeting the needs of the customer, and the challenges of the retention landscape has become very dynamic and skills-based conversations and skill-based hiring have now taken the front seat.  

Shetye shared that the changes in the talent landscape means that the talent organisations may want today could be very different from those they may need six months down the road, so defining the talent you need today, while important, is not as critical as how organisations can sustain that talent over the period of time. "Talent is not an implication of business anymore," said Shetye. "Talent is now driving the business models of organisations. If you don't have the right talent, you cannot expand your business or you cannot move in certain ways or into certain kinds of businesses." The talent could be already in the market, or even within the organisations, but organisations then must analyse and ask how they can then make that talent available for the kind of work that they want to do, he concluded. 

Ng shared some examples of instilling cultural change within Singtel, with a strategy known as the BIG agenda, an acronym for the phrases Belonging, Impact, and Growth. "When we implement a new HR initiative, we talk about creating a sense of belonging in the employees," said Ng "You'd want to develop a sense of growth and depth within employees." Singtel managers and leaders, he shared, are often open about the importance of upskilling and reskilling, to get more exposure in the different aspects of the job instead of just focusing on skillsets in one vertical. "We believe in futureproofing yourself against any changes," he said. A new initiative Singtel has also launched include going into different areas of work, and most of their agendas to develop their skills force revolve around those aspects.  

All three panellists also discussed the importance of incorporating AI into their work, and how organisations can leverage on AI to develop skillsets. Shetye demonstrated Oracle's work in AI, showing how the organisation has provided pretrained models that can be customised with an organisation's own data to improve model quality. Employees, for example, can use AI to create their own goals faster using key phrases in AI tools, generating results that provides employees with everything they need to know about the AI framework, while also allowing employees to edit and customise the work, retaining the human touch needed.  

READ MORE: Oracle adds new AI functions to HR management software

In discussing the work that humans will do in the future and how they can work with technology as needed, Shetye said, "There has to be some thinking about the value we (as people) bring in." Meaningless tasks, he added, can start to be offloaded by technology, and that is where AI comes in, at least for now. "We're all hearing the same thing: AI is an evolution in the making," concluded Shetye.